100% Safety Record!
Will it hurt? Will I get injured? These are the sort of questions that tend to run through the minds of people who haven't played paintball with Delta Force before. Poor standards in safety and equipment by less reputable operators doesn't help perpetuate the notion that paintball can be dangerous. Images of huge welts on bare chested players can put people off the sport. The truth is though, paintball is statistically far safer than most commonly played ball sports. Every week across the world, injuries are reported from sports such as football, soccer, netball, tennis and other popular weekend sporting choices. Paintball injuries are literally almost unheard of and Delta Force Paintball enjoys a clear safety record for it's players due to maintaining the industry's highest safety standards.
Delta Force Paintball has spent a quarter century learning how to provide the safest, yet still thrilling, paintball games on the planet. We achieve these amazing results because when you have almost 50 paintball centres spread across the globe, you develop and implement solid procedures to protect all stakeholders. Our safety standards, staff training and equipment are simply the paintball industry's highest. Where the best equipment and protective gear available isn't up to our expectations, we even custom design and professionally manufacture our own to ensure you are properly protected. No other paintball games operator has the capability to do that. You may break a leg playing football, and it's not out of the question you might get a bruise or two, but you are more likely to pull a stomach muscle laughing when you play paintball with us.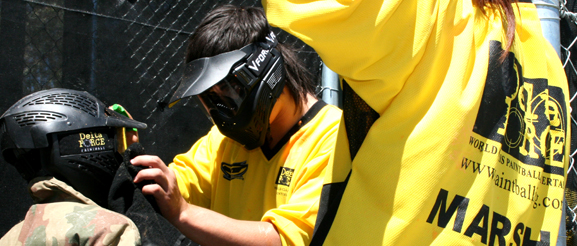 To achieve and maintain such a great record of safety we employ several key strategies.
Equipment
Our Safety Policy
Head shots – Not counted at Delta Force. This is to discourage players from shooting at each others heads.
Goggles must stay on – When in the game zones or directed by a marshal, all players must keep their goggles on and properly adjusted. Marshals enforce the rule strictly.
Safety Brief – Our safety brief is compulsory for every player. Nobody receives their paintball gun and gets to play until the marshals are convinced everyone was listening.
Staff Training
Safety Training Course – We have a dedicated safety training course for all our staff. They must show competence in all course requirements before commencing their marshal duties with customers. All staff receive refreshers to ensure we provide the safest environment possible.
Marshal Ratios – The amount of marshals present with every group of players is decided by a set ratio of marshals to players we work to. In this way we can be certain we can maintain our high levels of playing experience and safety. Two marshals at the absolute minimum are always present for every game.
1st Aid Certified – All Delta Force centre managers and their senior staff are required to have and maintain current first aid qualifications.
Our safety policy has been developed over our 25+ years as a paintball games provider. Huge amounts have been invested in the custom designing and manufacture process along with the consistent, recognised training for all staff. Your safety and our reputation as the safest in our industry, is taken very seriously.
So then, how safe is playing paintball with Delta Force Paintball? 100% safe!