Delta Force Paintball; your best choice!
Safe environments. Great equipment. The best staff. Awesome fields. Suits everybody. These are some of the terms forever associated with playing paintball with us. We are proud that the name Delta Force Paintball is synonymous with so much that is the epitome of our sport. Our good name stands for so much that benefits our customers. And that's a reputation we continually improve on.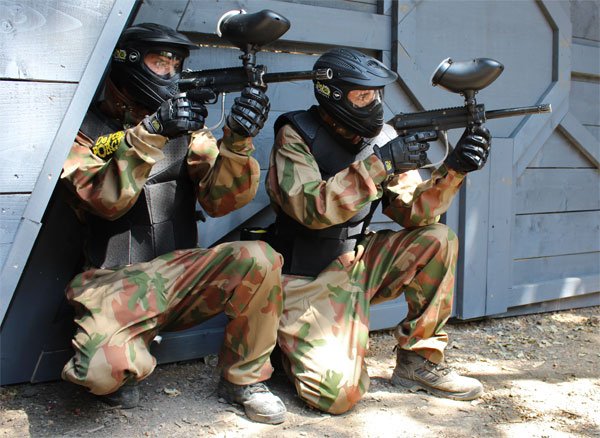 Top Reasons To Choose Delta Force Paintball
Lowest prices

Our price match promise ensures you are getting the lowest prices.

Value for money

Our constant market research and incessant efforts to continually improve our player experience make our prices difficult to compare to competitors offering much less for similar amounts.

Best guns

We choose the best rental guns to suit each Delta Force location as opposed to choosing the cheapest guns. It's about he cost benefits of using equipment that fails less regularly and therefore improves the paintball experience for the players.

Full head protection

Free hire with your entry, we offer every player our full head masks. Many rental masks are heavy, fog up easily and are uncomfortable to wear. Most paintball game providers are stuck with these choices. Delta Force however, chooses the best rental masks available that suit each location. And where we are unsatisfied with the choices, we custom design and manufacture our own to suit.

Custom designed body armour

Our bullet-proof vest style body armour has been developed specifically for us. More than that, it's hired free to all players with your entry.

Professionally Built Game zones

Our professional game zone building team travels the globe to work with local tradesman to build and setup carefully thought out fields. These game zones are created with specific scenarios in mind and often include movie-quality props and structures. Competitors can fill a forest full of junk as much as they like, but it's still rubbish. We prefer our players to enjoy amazing themed playing fields rather than playing around hay bales, rusting car bodies and wooden pallets.

Full public liability insurance

Often not provided by competitors, this is a mandatory requirement, and Delta Force Paintball ensures every player is covered regardless of the fact our safety policy and record seem to make it's inclusion redundant.

Safety record

Our safety policies and procedures have seen literally millions of players safety entertained at our centres over more than 25 years of operation. Maintaining our 100% safety record is high priority and we proud achieve it without interfering with our player's fun on the fields.

Celebrities come to us

As if to reinforce our position as the world's leading provider of paintball games, the world's celebrities choose Delta Force Paintball. The list of famous folk coming to us for a day of paintball is long and constantly growing.

Professionally trained personnel

This doesn't just mean the paintball field owner gives new staff a speech and send them out to loosely guide you through a day of paintball. With Delta Force Paintball, this means a dedicated staff training manager is traveling centre to centre to provide a structured training course and one on tutoring to new staff members. Each marshal must show competence in a variety of tasks before engaging with customers. If they can't make a great day even better for you every single day they work, they aren't right for us. Constant reminder courses ensure you always get the industry's best playing experience due to our marshal's dedication and training.

6 million players

No other paintball operator in the world can remotely think in these numbers. Most would be proud to have had 100,000 players visit their fields. Delta Force Paintball can now boast 6 million players across all our centres worldwide. With many returning to play more than one time, this alone speaks incredibly highly of why we are your best choice.
With such an impressive and unchallenged list of reasons to choose us, we are confident you can see why we are unafraid to stand up and claim to be the top choice for you. Whether you are planning a unforgettable day with a few friends, organising the most memorable stag party or wanting to reward a whole football club for a great season of effort; Delta Force Paintball is the choice you'll never regret.
Contact us now and book your event today.