Delta Force Paintball in Calgary.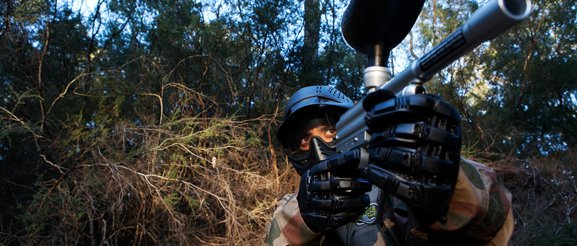 Delta Force Paintball grew from humble beginnings in 1989 to become the world's largest provider of paintball games. Around 6 million players have now enjoyed the Delta Force brand of paintball across several continents and countries. Many players return again and again. Male, female, young, old, athletic or those built for comfort not speed; a day with Delta Force appeals to everyone. We have a constant flow of television and movie celebrities who come to play. Top sporting teams and personalities also use our paintball centres for team building, rewards for a big season or just a way to blow off some steam. There are many reasons why we have unparalleled success in our chosen industry and now we are accessible to the people of Calgary as well.
Setting Benchmarks
For most paintball operators out there having a few casual staff, some hay bails, old cars, tyres and wooden pallets is suitable. Throw some acceptable paintball kit your way and send you out to capture the flag is good enough. That's not good enough for us. From our early beginnings we realised that paintball could be something much more and we've been constantly improving the paintball experience for our customers ever since. With such initiatives in place as global staff training and custom made equipment, Delta Force Paintball stands well above any other paintball company globally. Very few can claim to operate more than one centre; we have closer to 50. Only a huge amount of satisfied customers can lead to that sort of success. We set benchmarks others aspire to.
Customer Service
Having professionally trained staff that can progress through the ranks to management or other opportunities breeds a higher class of customer service. Our staff are evaluated on customer experience so they go the extra mile to ensure the players in their care for the day get special attention.
Awesome Fields
Our 25 plus years in the paintball game have taught us much about how to create and run each of our paintball fields (game zones) at our centres. Our themed game zones (often inspired by well known movie's) are carefully thought out and a layout created that compliments the structures and props we use as well as the way the game is played. A landing craft from a famous WW2 campaign will be positioned specifically to suit the objectives the players will need to achieve to win the game. The castle or POW camp will have entrances, exits and firing positions to perfectly help the flow of the game and increase the experience for the players. And so it goes on. Each game zone filled with movie-quality props and each offering a different and exciting playing scenario. Free your mate, assassinate the president, wipe out the zombies or blow up the bus. You'll be immersed in a world of realistic scenes and presented with a host of different objectives to achieve.
Safety & Equipment
Providing a safe but still thrilling day on the paintball battlefields is what we are about. Inhibiting a players capacity for an exciting time of paintball is often a by product of safety. Delta Force has constantly been adapting and improving safety gear so as not to suffer this downfall. To this end we have designed and commissioned our own safety gear (made by trusted brands) so our customers can be, if they so desire, protected from head to foot. We supply this kit free (laundered after every use) with your entry fee to our centres so you can choose how protected you want to be. From high necks on the combat suits, full head masks to our torso body armour, you can play with confidence. Paintball markers (guns) are also researched and tested across our network of paintball centres to ensure each centre has the best rental marker available for the particular landscape it will be used in. Our professional gunsmiths are kept busy maintaining the markers so they perform well every day.
Facilities
Keeping customers comfortable is something we also take seriously at Delta Force Paintball. Our base camps are all specially built safe zones protected by high fencing and cater to the needs of our players. Toilets are serviced and cleaned daily, and there's plenty of picnic tables and room to set up for the day. A stage is used to provide all players with the info they need for a day's paintballing, and an onsite kiosk holds snacks and drinks.
Value for Money
Playing at Delta Force Paintball is always competitive price wise without even looking at the benefits we provide over our competitors. We cater specially to group bookings (friends, birthday or stag parties, sporting or corporate) and offer great discounts on paintball packages for each member of your group. Couple that with the amazing game zones, facilities and professional marshals skilled in making certain every single player has the time of their life out there and you get much more than you pay for playing with us.
You can learn more about all these points and much more throughout our website. Enjoy your stay, and when you are ready, come and play. We'd love to provide the world's best paintball experience for you.