Kids paintball, learning on the move.
Keeping kids entertained each weekend or, even harder, during school breaks can be near on impossible at times. They are loaded with energy and when not occupied sufficiently, they often have a tendency to disrupt anything and everything within reach or ear shot. In their formative years and throughout their early teens they crave entertainment, challenges and achievements. Their young bodies need to be constantly on the go. Finding an activity that does not include sitting on the couch with a smart phone in hand or glued to a computer gaming screen is hard enough; let alone an activity that actually provides useful team skills and challenges. Paintball, particularly with Delta Force Paintball does exactly that believe it not.
Here in Canada, the minimum playing age for paintball is 10 years old. This is made possible by strict safety standards legally enforced on all paintball games operators. At Delta Force Paintball, we take another step further by commissioning the manufacture of our own equipment to further improve on existing safety gear. This is one of the primary reasons we hold a 100% safety record even though our player numbers are many times that of any other paintball games provider worldwide.
So re-capping then, kids paintball with Delta Force Force is an outdoor activity that is not only very safe, it provides an challenges and lessons in team work as well. How though is this achieved? Professional supervision
All players are accompanied at all times on the paintball battlefields by our paintball marshals. With Delta Force, these dedicated people must attend several training courses and, through practical demonstrations, show competency in a list of skills before they are allowed to referee a paintball game. The end result is not only a marshal that can explain and apply the rules to the paintball games, but a marshal who can assess each player's capabilities and needs very quickly on the battlefields. They are particularly proficient in nurturing the younger and more shy players so they are not only safe but enjoy being an integral part of each game. Our marshals will offer tips and hints to the kids during the heat of battle although they often take paintball hits themselves. These are all reasons our marshals are the industry's most efficient and qualified.
Structured game play
We know at some paintball companies that kids are simply given a paintball gun and let loose to go play war but that is NOT what happens at Delta Force. We put a huge amount of thought into how each game is played. Rather than deliver a scenario that requires the kids to simply paintball 'kill' each other, we devise scenarios that involve specific objectives to be achieved by the teams in order to claim victory. Giving thought to how to obtain their goals and imbedding the necessity for team work, teaches the players the importance of being responsible for their own actions and how a big effort is required when others are relying on them to do their best. It's all in good fun of course yet amidst the laughter they are learning to lead, follow, devise plans and execute them. They are learning great skills and don't even realise it.
Safety first
All players are issued our full safety ensemble upon arrival. This is included free in their entry fees for the day. As mentioned earlier, much of this equipment has been designed by Delta Force Paintball over the 25+ years in operation to exceed all other paintball safety standards. Not only that, what you often have to pay extra for with our competitors, you get free for the day with us because we want you 100% safe all day and every day you come back. The standard equipment your child will receive includes a full head mask and full length combat suit with extended neck padding. These two item blend together for total protection from head to ankle. If you want to also protect the hands, you can even upgrade your child's kit to include armoured gloves if you wish. Our bullet-proof vest style body armour is a lightweight protection for the player's torso. These are often hired separately at many paintball centres but again, with Delta Force, you and your child get them free.
Our safety policy also includes rules not applied by many other paintball game operators. An example of this is, at Delta force, head shots are NOT counted. This discourages the players from shooting each other in the face even though our paintball masks and lenses are of the highest quality and able to resist the impact. We also employ a minimum distance rule for shooting another player which further reduces any small risk of someone being hurt. Add to these things, our amazing marshals and you have clear reasons why we are the world's most popular choice for kids paintball. We know that's all very important comfort for a parent to know.
Large groups
Quite often we have school, youth and clubs book in for a day of paintball adventure with us. We can quite literally handle groups up to a few hundred players which makes us an exciting prospect for many teachers, youth leaders and parents with large children's parties to entertain.
Achievement
Inspired by the large numbers of youth and kids that come to play, we like to hand out small achievement awards at the end of the day. These are not simply an 'everybody who participated gets one' award, neither are they given only to those who show the greatest talent for paintball. Instead, as part of their duties, the marshals assigned to your kid's team will have been taking note of what happens out in the combat zone all day. Top Gun awards will be recommended by the marshals to those who not only stand out but also those who simply take themselves out of their comfort zones often as an example. In this way, a shy young girl can just as easily get recognised for her effort as an older boy can.
In the end, kids paintball with Delta Force Paintball is essentially a safe, yet energetic, learning environment. We are the world's largest and most trusted paintball games provider, making us your best choice by far. And, when we give them back to you at day's end, they'll be sufficiently worn out although you can expect some excite chatter about the days fun all the way home. The stories of heroism will be retold often and with much gusto well into the future too, we promise.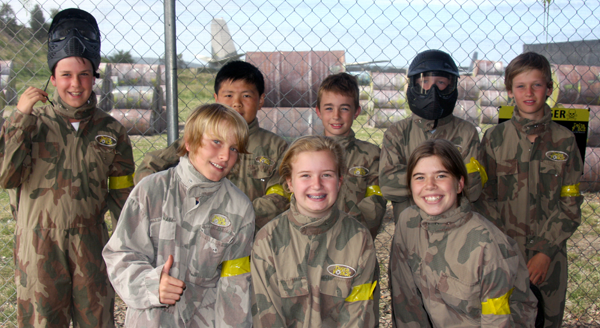 Please note: Delta Force Paintball has set the minimum age for paintball at 10 yrs. All players under the age of 14 should have a parent or guardian remain on-site with them.